Minx is in essence, an entire TV series about the female gaze. It's about combining feminism with naked men and trying to embody female desire.
HBO Max's 2022 series Minx tells the story of a 70s feminist editor joining forces with a porn publisher to create the first women's erotic magazine, Minx. When earnest journalist Joyce (Ophelia Lovibond) has trouble finding backing for her dream ultra-feminist mag called The Matriarchy Awakens, she compromises by adding in a whole lot of sex – namely in the addition of naked male centerfolds. Publisher Doug (Jake Johnson) has his own ideas as to what works and the two clash constantly as the magazine takes shape and is launched into the world.
Minx is good fun. As someone who has spent over 20 years making feminist porn online, the series felt very familiar to me. The various obstacles and hilarious scenarios depicted in this fictional series is pretty close to the truth in a lot of ways.
Full Frontal Male Nudity
One of the things that stands out about Minx is its unapologetic use of full frontal male nudity. The show isn't coy about showing penises – including erect ones – and this makes it fairly unique amongst TV series. Usually the camera will shy away from male genitals, even when happily offering full frontal female nudity. Here, however, it's an integral part of the show (as it should be, given that auditioning male models and taking photos of naked men is a large part of the plot). Within twenty minutes of the first episode, we're treated to an entire montage of penises. Importantly, we're encouraged to view these men from a female perspective and to admire them as a heterosexual woman might. At the same time, the male models we see are treated with respect.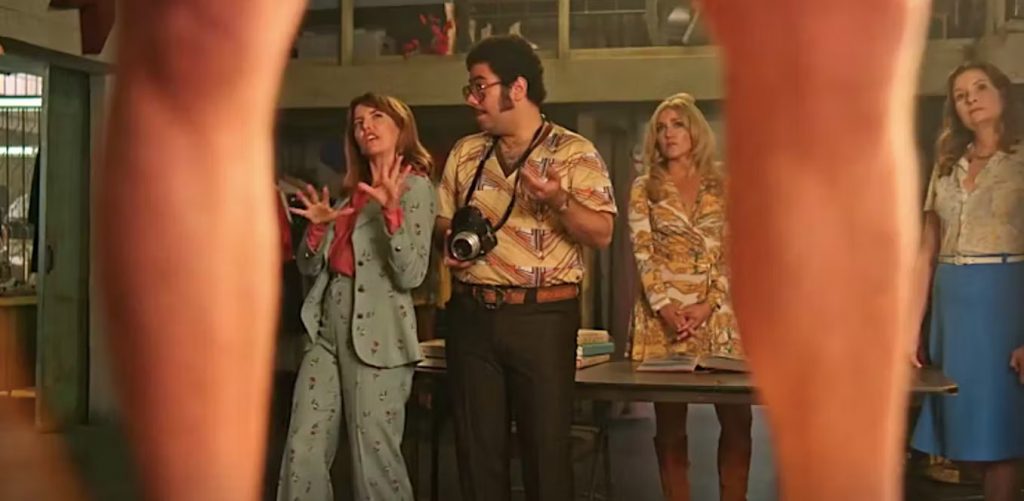 Minx is – in essence – an entire TV series about the Female Gaze. It poses questions as to what women might want to see, what they find appealing and how to embody that in photography and in written form. Joyce takes us on a deep dive into embodying the female gaze. During her photoshoots, she talks about wanting to capture it. It's something she doesn't always get right but hey, it's the 70s. "The female gaze" is a relatively new concept at that point.
Sexuality and Diversity
Minx also explores various aspects of female sexuality. Both Joyce and her sister Shelley (Lennon Parham) have something of a sexual awakening, echoing the way women in the 70s began to blossom and discover themselves sexually. Joyce's exploration of sex toys and masturbation is shown without fetishization or titillation. It's viewed from a female perspective and shown as a personal journey, not a mere sex scene.
The show features a diverse cast of characters and makes an effort not to fall into stereotypes. Indeed, the show delights in subverting our expectations as to who these people are and what they think. The characters are rich, funny and surprising. They also exist to explore the realities of sexism, racism and homophobia common in the 70s. The stories of sex worker Bambi, gay photographer Richie and African-American secretary Tina depict the various prejudices that existed at the time and shine a light on the relatively narrow focus of second-wave feminism.
Minx is the creation of Ellen Rapoport, a writer and producer who was formerly a corporate lawyer. Rapoport researched the series by studying old copies of Playgirl, Ms Magazine and Viva, as well as reading old newspaper stories about their editors. She wrote three episodes of the series.
Minx has ten episodes, seven of which were written by women. Six were directed by women.
Quotes
The New Yorker writes: "What do women want? It's the question animating the long, pink history of ladymags. There's no answer, of course. Women want different things, at different times; dreams are stubbornly personal. But "Minx" needs to know what women want so that it can portray its characters figuring out how, against the odds, to provide it. And what the writers decide, not unreasonably, is that women crave the empowerment of looking, rather than the banality of being looked at."
Mashable writes: "Unlike previous examples of on-screen penises, Minx turns the tables by presenting male nudity explicitly for the straight female gaze. The penis montage happens because the Minx staff are looking for something that will turn women on. Throughout the scene, female onlookers, including Joyce and fellow Minx staffers Bambi (Jessica Lowe) and Tina (Idara Victor), nod their approval. In a quick aside, two other women, who work at Doug's publishing company, try to get a peek into the room. It's a funny moment, one that affirms their desire without shaming them for it."
Apparently only four prosthetic penises were used during the series, which means that the majority of dicks on show were real. Good to know. The rampant nudity was also a reason the show nearly wasn't made according to The Decider. "I thought it be an easy sell and I'd just walk in and be like, 'We're gonna show 30 dicks,'" said Ellen Rapoport. "I was wrong. It was an incredibly hard sell. I think people really liked it and they gave us the nicest passes: 'But you know obviously we're not going to put penises on our service.' Which, fair enough."
-by Ms Naughty